Neil Woodward is a Flint, Michigan instrumentalist, singer, songwriter, and folk historian who helps preserve musical traditions. He holds the title -- Michigan troubadour. In 2003, the State of Michigan Legislature officially named Neil Woodward Michigan's Troubadour in recognition of his lifelong commitment to preserving Great Lakes folk music, storytelling, and culture.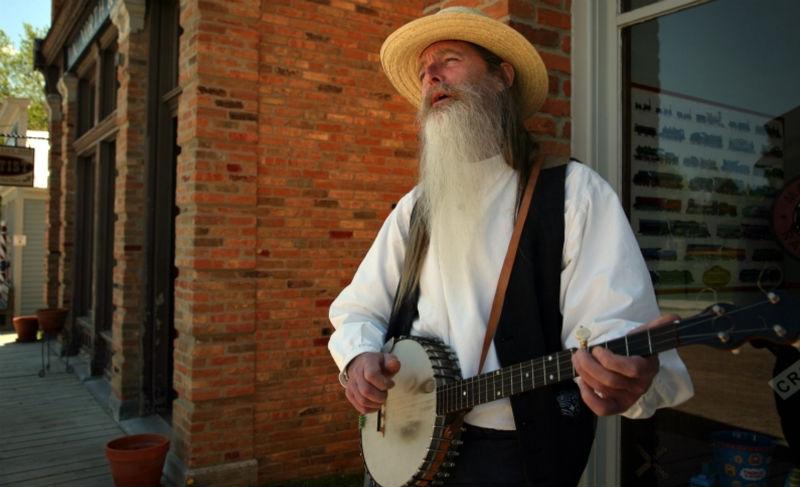 Neil Woodward is the recipient of the 2018 State of Michigan Heritage Award "in recognition of his outstanding contribution to Michigan's cultural heritage." Most of Neil's work focuses on preserving Michigan's songs in the Woody Gutherie troubadour tradition.
Neil sings and writes excellent songs, including superb storytelling about Michigan's blue-collar workers, the rank and file, and hardworking people ranging from Great Lakes sailors, railroad workers, loggers, and factory workers, to name a few.
Woodward has served as the village troubadour at Genesee County's historic Crossroads Village and Huckleberry Railroad and spends his summers as a strolling musical performer at Greenfield Village in Dearborn.
For over thirty years, Neil Woodward has shared folk music's warmth and wisdom with Great Lakes audiences. In such historic surroundings as Crossroads Village, Grand Traverse Lighthouse, Greenfield Village, and schools and libraries lake-to-lake, his vast repertoire and enthusiasm bring to life the Michigan experience for people from around the world.
Woodward has a long list of tools he uses in his trade. Besides various guitars, he plays the harmonica, mandolin, fiddle, banjo, autoharp, pennywhistle, ukulele, and other stringed instruments.
The Dearborn Press and Guide in a feature story on Neil Woodward and described his unique job.
"He spends his days immersed in Michigan history — singing songs about 18th-century Indian maidens, 19th century lumberjacks and 20th century autoworkers," "He strolls through the streets of Greenfield Village playing his fiddle, or maybe his concertina. And when he gets out his dulcimer, he is inundated with questions from passers-by. He dresses in the style of a 19th-century traveler, his long hair and beard hang below his straw hat."
Neil told his hometown newspaper, the Dearborn Press and Guide, "I'm working to carry on this tradition of folk music the best way I know how," Woodward said. "Folk is a piece of history, but it's more than that; it's living — an ongoing thing. The old stuff wasn't recorded. Old songs were passed on from person to person. And that's what I'm working to continue."
Neil may be the only person alive who played banjo at the Rock and Roll Hall of Fame and Juice harp at Lincoln Center. With their Creative Artist Grant Award, the Arts Foundation of Michigan (now Art Serve Michigan) recognized Neil's own compositions as continuing contributions to the troubadour's tradition, an artistic chronicle of significant individuals and events.
In an interview in 2017 with blogger Christopher Porter, Neil recounted how he ended up at the Rock and Roll Hall of Fame induction ceremony for Woody Guthrie and playing the Jew's harp at Lincoln Center:
"In 1988, Peter Glazer and Jeff Waxman brought their New York cast and work-in-progress theater piece
Woody Guthrie's American Song
to Detroit's Attic Theater for the premiere production. The Attic was tasked with finding a bassist and a utility string player who needed to play harmonica, fiddle, mandolin, and banjo. They tell me that all the leads they had in their search pointed in my direction, which was a great fit.
The bassist was Ray McKinney, a legendary figure in jazz. McKinney's Cotton Pickers was a seminal force in the early years of jazz, and Ray was one of the original beboppers with Charley Parker, Dizzy Gillespie, and Miles Davis. We played that show with the original cast in Ford's Theatre -- the ghost of Lincoln looming over our bandstand -- and theaters in Kansas City, Seattle, Manalapan (Florida), and Albany (New York), among other places. The cast recording lists me as one of the creators of the play and the music.
Among many honors and all those nights of singing Woody's songs, we were invited to play for Woody's induction into the Rock and Roll Hall of Fame. It is an odd experience to hear one's recordings playing over the house sound system upon walking into the building for the first time, but truly an honor. So I played banjo there.
I also had a chance to sit in on fiddle with Jorma Kaukonen and others at The Odeon. Our company was also part of the concert at Severance Hall with Pete Seeger, Arlo Guthrie, Ramblin' Jack Elliot, Bruce Springsteen, and others. We also presented a one-time performance at Lincoln Center. By that time, a jews harp solo was part of the arrangement of "Jolly Banker." I made many friends and went to many places with that project!"
Neil's songs, recordings, and concerts have earned him nine Detroit Music Awards. His classic recordings are cataloged by the Library of Congress Office of Folklife, Smithsonian Folkways, and the State of Michigan Archives. Neil is a course guest lecturer for Michigan, Eastern, and Wayne State Universities. He is a Faculty and Presenter member teacher of Smithsonian Associates.
Neil's experience in performance, research, writing, arranging, theatre, audio, and video production and his widely acknowledged skill with over a dozen musical instruments offer his many private students a unique perspective.
His school programs bring our culture into focus from pre-school through college level. In venues as diverse as the Rock and Roll Hall of Fame, Michigan Historical Center, Detroit Institute of Arts, Northern Michigan campgrounds and lighthouses, and community schools and libraries of Alpena, Ann Arbor, Brighton, Byron, Copper Harbor, Charlotte, Davison, Detroit, Flint, Hartland, Howell, Kentwood, Lansing, Montague, Ossineke, Paradise and Ypsilanti, Neil's performances pay tribute to light keepers, immigrants, laborers, sailors, soldiers, teachers, mothers, fathers, loggers, railroaders, farmers, hobos, auto workers, dancers, singers, musicians, and dogs.