Civil War Song "Peach Tree Creek" Memorializes Flint's Contribution to Civil War 
This past summer in West Branch, Michigan, I witnessed an off-road pickup circling the City with two large confederate flags placed in the stake holes of an off-road truck. Michigan songwriter David Norris and I discussed the incident and the confederate flag. He drew my attention to an organization dedicated to Saving Our Flags, those of the winning army! That is the flag of the Union Army. David was interested in the flag carried by the soldiers of Flint, Michigan. He is a history buff, and hand penned a poem about his great-grandfather Talmon Owens who fought with Flint's 10th Infantry Regiment, a civil war army detachment. David collaborated with singer Neil Woodward, Michigan's Troubadour, to create the song "Peach Tree Creek." "Peach Tree Creek" memorialized and honored the men who served in Flint's 10th Infantry Division fighting in the decisive Battle of Atlanta during the Civil War.
NEIL WOODARD, Livingston County, Michigan
Flint Water Crisis Inspires Mustard's Retreat Song "Take the Chilren and Run"
Soon, I noticed something curious. That is, there are many songs written about Flint, Michigan. I wanted to discover more of them. That led back to Ann Arbor folk artists Libby Glover and David Tamulevich of the group Mustard's Retreat. They shared a song titled "Take the Children and Run" by Don Lange. Take the Children and Run was initially written about the Three Mile Island nuclear tragedy. David realized the parallel to the Flint Water Crisis in the harm to children. So, he covered the Don Lange song modifying its words to reflect the reality of the Flint Water Crisis. He organized a collaboration with other people to produce a fantastic video to accompany the song. The video helps people understand the context and suffering of the people of Flint.
LIBBY GLOVER and DAVID TAMULEVICH, Mustard's Retreat, Ann Arbor, Michigan
Not long after that, I met author Barb Barton of Lansing, Michigan. Michigan State University Press, her book publisher, arranged the interview. She and I met to discuss her book about Michigan's Wild Rice! During this conversation with Barb, I learned she also had a Flint Water Crisis song, much like David Tamulevich's cover version of "Take the Children and Run."
BARB BARTON, Lansing, Michigan
My curiosity was growing after discovering and listening to these Flint songs. What else could you expect? A complete Google search followed. The Google search resulted in the discovery of many songs titled "Flint, Michigan," written for or about my hometown Flint, Michigan. The tunes run the gamut from folk, rock, blues, jazz, drone music, hip hop, rap, etc. That all lead to finding some of the artists and chatting. I wanted to know what inspired these songs. Why did they write them? What were they trying to say?
Songwriters Inspired to Write About Flint's Humanitarian Crisis
The songwriters' research resulted in almost a dozen interviews about their Flint, Michigan songs and stories. The songwriters of this generation seemed deeply moved by the humanitarian disasters that have visited Flint, not just the poisoned water but also the insidious poverty and need for economic justice. Some songs speak to police misconduct, racial injustice, and poverty. Nearly all songs document a crisis involving the City of Flint and surrounding areas. The songwriters are doing what they have done for generations. They are documenting for history and the next generation of Americans what was broken and needed to be fixed. In Flint, Michigan, right now, that seems a tall order. Again, some recorded songs revealed feelings of love, fun, feeling blue or patriotism, and love of the City.
JOE RYAN III, Hollywood, California
Songwriters from all Genres, Ages, and Places Write About Flint and Its People
While tracking down the songwriters and musicians, it was readily apparent that there were so many songs that it would be impossible to feature each song on Radio Free Flint's podcast. The songs seem to fall into a few categories: Songs about the Water Crisis, Songs about Economic and Social Justice, Historical Songs, and dance songs. They are written and performed by artists such as singer and movie star Common, Justin Townes Earle, Jon Connor, Joe Ryan III, Colton Ort, Antje Duvakot, Neil Woodward, Matt McDermaid, Ryan Howard, and many more.
COLTON ORT, Ashland, Oregon
Flint, Michigan, is a city facing multiple public health crises, including lead-tainted drinking water, COVID-19, and infant mortality that rivals a third-world country. During a pandemic, people can feel isolated and alone. Flint is facing staggering unemployment, brain-damaged children, and punishing poverty. It is understandable to believe no one cares or hears about a City's problems and needs. There was no shortage of materials for these songwriters to document Michigan history.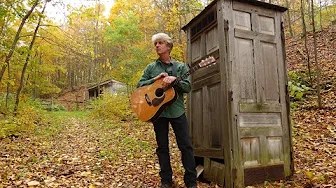 DAN HALL, Flint, Michigan
Flint Songwriters Spark Others to Action
In a recent dive into social media, Facebook brought me closer to old friends, David O. Norris and Dan Hall. They are a Flint, Michigan singer-songwriter duo you probably never heard of before. Yet they have authored and performed some of the most influential songs about the City of Flint and its people over the last 40 years. I also formed deeper friendships with Flint's Joel Bye of the Blue Hawaiians band, Ann Arbor folk singers Libby Glover, and David Tamulevich of the group Mustard's Retreat. Behind the scenes, these wonderful songwriter-musicians helped encourage the development of Radio Free Flint and, in so doing, involved the Flint area community of musicians.
David Norris, Genesee County, Michigan
These friends opened the door to discovering exciting people I otherwise would never have met, even during a pandemic. That is a door where history and memories of my hometown, Flint, Michigan, are stored in song forever.
Songwriters Dan Hall & David Norris Record Flint's Past and Recent History
It wasn't long after launching this podcast David Norris, and Dan Hall sat down for an interview about their songs and worked as songwriters. While they have been friends of mine for perhaps 40 years, I never explored the depths of their collaborations in music and songwriting. We began a podcast discussion about the recent death of Ruben Burks, former Secretary-Treasurer of the United Automobile Workers Union. That discussion turned quickly to their song "1937," in which they put a riveting view of Flint's labor history to music. The song is a musical history lesson with drama, risk, and daring. Their song is about Flint autoworkers seeking economic justice and the right to organize a union in America.
Dave and Dan passionately recounted how they formed a backup choir comprised of elderly sit-down strikers! The actual studio recording of the song has the strikers performing in the background with a Flint choir. Dan and Dave also recounted an event at Flint's Whiting Auditorium. Dan sang the song "1937" for the first time before UAW members and their families. The mix on the song overlaid a speech by the late UAW President Walter Reuther. It was inspirational, and the audience arose with a deafening roar of approval! The occasion was the 50th Anniversary of the Flint Sit-Down Strike.
Shortly after the podcast interview with Dave and Dan, America witnessed the death of George Floyd at the hands of a Minneapolis policeman. The murder sparked a national protest.
In Flint Township, people took to the streets. The Genesee County, Michigan Sheriff met the protesters and eventually marched together arm in arm for the cause of justice. Dan and David immediately went to work writing and recording a song. What emerged was the song "Together," memorializing the event. Network television cameras captured the even as well as the attention of America. This occasion in Flint history captured the attention of songwriters Dave Norris and Dan Hall. Their song is preserved for history, police, and marchers trusting one another and marching for the exact cause, justice. It was a hopeful and inspiring moment in Flint.
The local songwriters' work is no different than that of Woody Guthrie, Bob Dylan, or Bruce Springsteen. Their words record American history, especially that of the working men and women of America.
JUSTIN TOWNES EARL, Nashville, TN
In closing, we should celebrate today with songwriters, for they are a mere reflection of the society we have built for ourselves. It is encouraging that we have many artists who have taken an interest in Flint from across America. The history lessons are clear to me, and if you don't like how things are going, then it is time for a change—no better time than today to get started.